About
We aim to create superior quality wine that is refined and distinctive and which harnesses the unique abundant qualities of the Western North Carolina Mountains.
We strive to provide an unmatched experience of soothing comfort and style, coupled with an unlimited propensity for fun.
Jennifer
I have always loved Chemistry, learning how nature worked on a molecular level. I also loved the chemistry of people, learning about what shaped them and their beliefs. I followed that path with my degree and ultimately to sales. After 13 successful years in New York's Financial District, managing global teams, global customers and traveling the world, something was still missing. I still felt empty and lost. During this time, I met the love of my life, Ed. Chemistry was back in my life. We both felt a pull to lead more 'authentic' lives – a pull that led us to the mountains of North Carolina. Left the job, sold the house and packed up for a new frontier. After a wine tour one day, with glass in hand, we both looked at each other and knew winemaking was the next chapter. After a year of learning grape growing and wine making, I discovered that chemistry was core to the whole process. It's funny how things come full circle. I have faith that my path, albeit difficult and sometimes daunting, is the right one. One hour on our property, with the vines in the distance, cool breeze on my face, I knew I took the road less traveled and I know it has made all the difference.
Ed
I have always loved building things, whether it was a home, kitchen or even a trading floor at the NYSE. I felt it was my calling over the white collar career path I took over 26-years. My education and inevitable career path in Information Technologies proved both lucrative and rewarding but, I always felt incomplete while lacking self satisfaction. Having brought up two wonderful children who are now adults, it afforded an opportunity to redirect my energy to a passion to fill that void. I met Jennifer my friend, my love, my partner several years back who also expressed a desire to take a different path we had shared so often in our conversations. I feel that with our history of hard work, success and strong partnership we have a great future in our lives and business.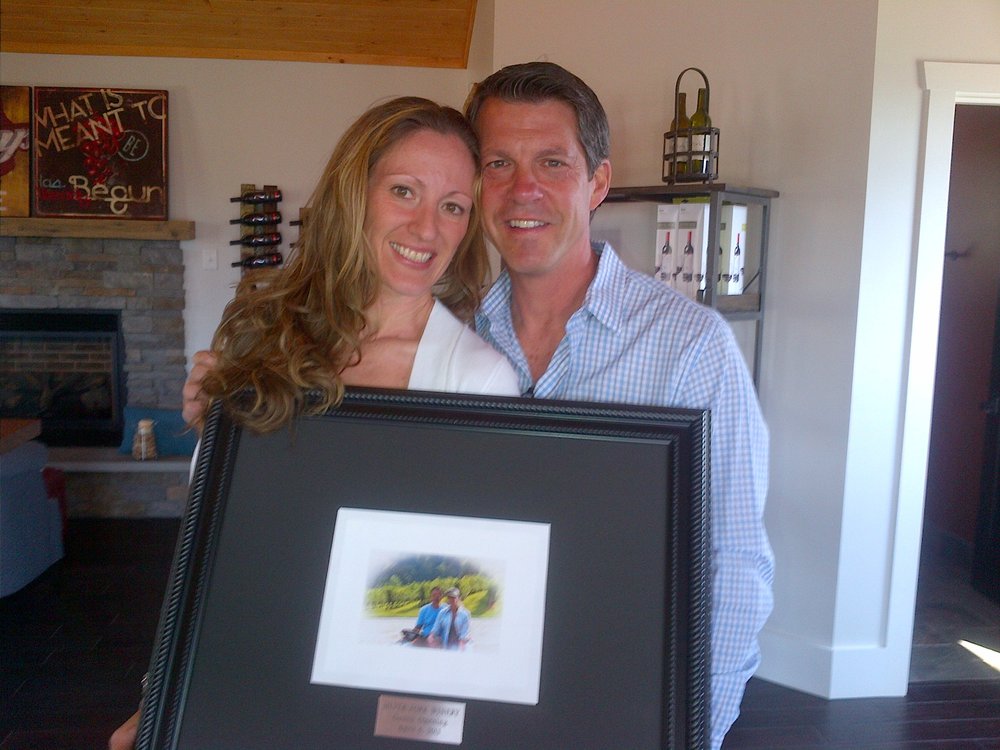 Together
As we began our search for a vineyard on the east coast, we focused on North Carolina as the place we would not only wanted to start a personal new beginning but a new business. After countless visits and miles of driving we landed in Western North Carolina (WNC), purely by chance, with a visit to the Biltmore in Asheville. Having just come from the pace of New York, we wanted to find an ideal property with breathtaking views and great potential – by luck and some would say faith, we found one in Morganton-Burke County when we met the owner of South Mountain Vineyards, Larry Kehoe.
We found the property had a proven track record and success in growing Vinifera vines for nearly 20 years – Old world European style grapes such as Chardonnay, Cabernet Sauvignon and Merlot just to name a few. The temperate climate in WNC allows for optimal growing conditions with warm summer days and cool nights. The annual rainfall was well within range that allowed for dry farming, with no need for irrigation. Couple that with 1,200 feet elevation, southern facing slopes and great drainage; truly works in the vines favor.
Our deep desire for reinventing the life we imagined - whereby we could create something of our own and be closer to the land, has been fulfilled. We invite you to share in the experience of Silver Fork Winery - the wines, the majestic views and melt into soothing relaxation. We look forward to sharing our home and passion with you.